In the market for a new dishwasher and looking for something different than the traditional 'castle drawbridge' style that everyone else has? You should take a look at Fisher & Paykel. Fisher and Paykel have been designing innovative appliances since 1934, starting in New Zealand and now spread across the globe in more than 50 countries.
The Fisher and Paykel Dishwasher Drawer was first released to the market around 1998. Fisher and Paykel brings your kitchen to life with dishwashers from select styles that perfectly complement your kitchen appliances.
The Fisher and Paykel Dishwasher Drawer comes in three styles: Integrated, Contemporary and Professional. "Integrated" style is when appliances fit flush with the cabinetry delivering a seamless finish in the kitchen. With integrated style appliances, the kitchen in its entirety becomes one cohesive design feature. "Contemporary" style draws on both modern and traditional designs that create a refined look. This style features clean and sleek, yet bold lines that offer a timeless aesthetic. "Professional" style gets its inspiration from commercial style appliances. They are constructed from high quality stainless steel and feature the signature professional style handles. This delivers exceptional results in a residential setting and is built to last.
Fisher and Paykel make dishwashers in a single drawer or a double drawer design. This gives you the freedom to design a kitchen that is customized to the way you live. Where dishes can be loaded easily at waist height, placed conveniently under preparation spaces or distributed around the kitchen to best suit your needs.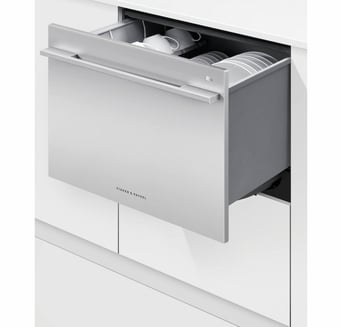 The single drawer and double drawer come in 2 sizes. For the single drawer you have the option to get the standard or the "tall" drawer, which allows for larger dishes. The double drawer also comes in standard or "tall", providing more space in the top drawer for larger dishes. The "tall" drawer fits full-size dinner plates up to 12 1/4 inches, with flexible racking for large cookware.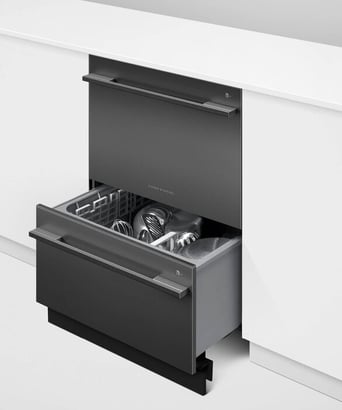 The Fisher and Paykel Dishwasher single drawer has 6 wash programs, as well as Quick Wash, Sanitize and Extra Dry options. The Fisher and Paykel Dishwasher double drawer has 8 wash cycles from Heavy to Light, including Auto, 60min and Glassware. For ease-of-use, both the single drawer and double drawer have a "knock to pause" function. A knock on the front panel will pause the dishwasher, which can be restarted by using the start button. With a 2021 Energy Star Most Efficient rating, this dishwasher is recognized amongst the most energy efficient models in the market today.
So, if you tend not to run with the herd, why not head over to Tasco and talk to us about how you can trade that drawbridge for a Fisher & Paykel drawer.