If you're someone that struggles to enjoy cooking and are looking to spark an interest, there are appliances out there that help make this easier for you. There are many times when we look at a recipe for a new meal and immediately get overwhelmed by all the steps and processes required. These built in recipes or cooking assistance features aren't going to be able to do all that prep work for you, but they will be able to take some of the stress off your shoulders.




Dacor offers free standing ranges, cook tops and wall ovens that includes their Chef Mode program. This program offers cooking advice straight from the 7inch screen, guiding you on the proper rack setting, temperatures and timing. The Dacor Chef Mode program includes around 18-20 recipes and brings up the full details of the recipe on the 7inch screen, along with tips and tricks.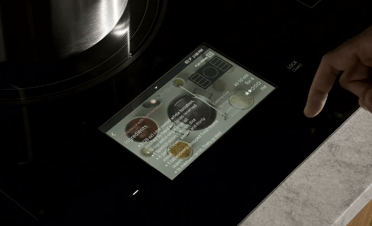 Miele offers free standing ranges, wall ovens and cook tops that includes their MasterChef and MasterChef Plus built-in recipe program. Both programs include 100 recipes at just the touch of your finger. There are recipes in all main categories such as baking, fish/meats, pizza, bread, vegetables and soups. Imagine, you're hosting a dinner party and you don't have to worry if that roast beef that's been cooking for hours to is a perfect medium-well done. The Miele MasterChef programs are a must have assistant for those of us that are cooking novices.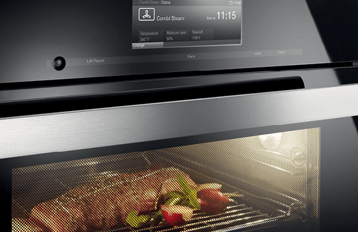 Monogram offers free standing ranges and wall ovens that includes their Guided Precision Cooking built-in recipe program. This program pulls recipes directly from the internet using its WiFi connection, keeping the recipes up to date with current cooking trends and new popular recipes. This feature is a great addition for those that are always looking to try out some new meals.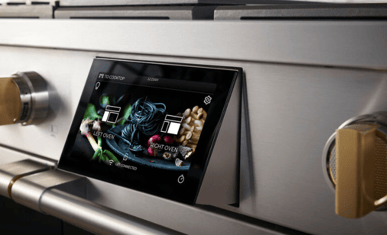 These brands have established top ratings through-out the appliance industry for high quality appliance designs, now they are helping you in curating an easier and more enjoyable cooking experience. Even the most experienced home chef could benefit from the many built-in recipes and cooking assistance features they have to offer!