Hannah Sunderani is a wonderful and creative chef, admired by many. She develops many unique and delicious vegan recipes every day for her website, Two Spoons. Since Hannah spends a lot of time in her kitchen and needs a space that would inspire her to create fresh recipes regularly, she decided to take on the project of transforming her kitchen into her dream kitchen.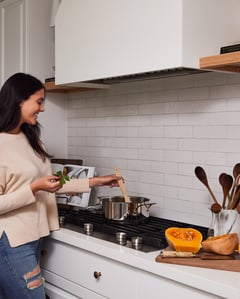 Hannah worked with her designer Tiffany Leigh, a brilliant designer from Toronto and the owner of Tiffany Leigh Design to create an ideal space for cooking, entertaining guests, and creating mouth-watering recipes. Since Hannah cooks for a living, she needed a professional and high-functioning range of appliances for her kitchen.
Hannah wanted to talk to an appliance expert that could guide and help her make the right decision in terms of the brand, features, size, model, etc. which is why Hannah chose Tasco Appliances for her appliance needs. Our professional and experienced sales team worked closely with Hannah and Tiffany in selecting the appliances that best matched Hannah's culinary requirements and Tiffany's design ideas.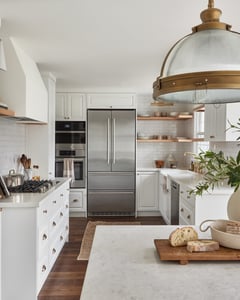 Let's take a look at the appliances that made their way into Hannah's dream kitchen!
Liebherr Counter-depth Refrigerator
Hannah needed a refrigerator that is not only visually appealing but also offers a large capacity so she can store her delicious meals as well as the produce that she uses to cook. It also offers a stackable freezer that allows more convenient storage for frozen goods.
Tiffany designed a beautiful cooktop station for Hannah's kitchen considering that was going to be the most crucial spot in the entire kitchen for Hannah. So, for the cooktop station, they wanted a cooktop that's just as beautiful and offers high functionality. Hannah preferred a gas cooktop over electric for better heat control. This 5-burner JennAir cooktop seemed like the perfect choice for Hannah's cooktop station.
Hannah wanted a microwave that also offers the features of a wall oven and one that would be able to fit well above her existing wall oven. This JennAir microwave offers a speed cook option, a keep warm option, sensor cooking, grill element, an elegant design, and more.
As we know, Bosh dishwashers are among the quietest dishwashers in the industry. Along with high performance and a sophisticated design, this dishwasher offers flexibility for larger pots, leak protection, 24-hour delay start, and a sanitize cycle.
Take a tour of Hannah's dream kitchen with Hannah and Tiffany.
Check out the before and after transformation!
We hope you liked learning about Hannah's kitchen transformation, and the appliances that make it even better. Learn more with Hannah's blog on her website.
--

Like what you're reading? Be sure to sign up for our e-newsletter and receive our latest blog posts, recipes, product info and exclusive deals - right to your inbox.