Wines need to be stored at the perfect temperature to make sure that they age well and you get the most enjoyment out of every bottle. If they're not stored properly in a refrigerator, the heat can mess up the flavor and ruin the taste for you. Even if you're not a regular wine drinker, a wine refrigerator can help you keep a few bottles stored correctly to break out for your guests or for yourself, every once in a while. If you're wondering why you can't just store your wine in your regular refrigerators, it's because the temperature that is required to keep your food fresh is different from the temperature needed to maintain the integrity and ensure proper aging of your wine.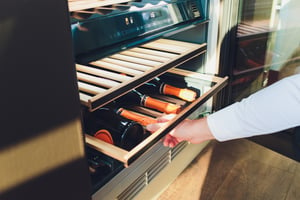 There are so many options to choose from in terms of the style, size, features, etc. which can make the whole process quite difficult. Whether you're a seasoned wine connoisseur or just beginning to develop your palate, if you host a lot of parties, whether you have a big kitchen with room for a built-in wine fridge or an under-the-counter cooler, all these factors also need to be considered to decide the best option for you.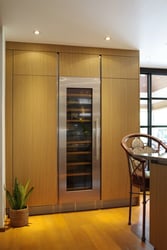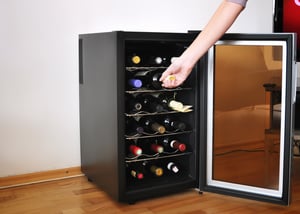 Let's discuss these factors in more detail.
Type
Depending on your needs and the size of your kitchen, you can either get a built-in or a free-standing wine refrigerator.
Built-in can be installed between your kitchen cabinetry or below the countertop (if you're looking for a small one). The vents are on the front to ensure proper ventilation. You can also choose an integrated panel for this to make it blend in with your cabinets.
Free standing is ideal if you don't have room to install a built-in cooler or if you want to place it in a wine cellar or bar area of your home instead of the kitchen. They cannot be placed between cabinets or backed against a wall as the vents are in the back.
Size
Wine coolers come with different capacities to cater to different customer requirements. If you host a lot of parties, gatherings, or wine tasting evenings, you may want to invest in a wine fridge that can store a higher number of bottles.
Taste
Your taste preferences also play a role in choosing the right wine refrigerator. A single zone fridge is good to store one type of wine, either red or white, as it offers the same temperature for the whole capacity of the fridge. On the other hand, a dual zone fridge offers different temperature settings through a partition, allowing you to store both kinds separately.
Budget
Budget is always an important role in every purchase decision. There are so many extra features that you can get in a wine fridge, like LED lighting, digital display, wooden racks, safety sensors, locks, and more. You can save money by opting for a simpler cooler that allows proper storage for your wines or you can get one that offers more than just temperature control for your wines, if you think the additional features are important to you.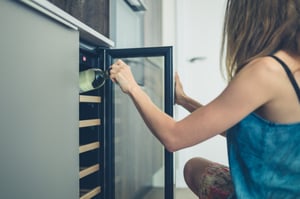 When you start exploring your options for a wine refrigerator, make sure that you take all these factors into account to avoid making the wrong choice. However, any wine refrigerator you choose will significantly enhance your overall tasting experience than your regular refrigerator. Cheers!
--

Like what you're reading? Be sure to sign up for our e-newsletter and receive our latest blog posts, recipes, product info and exclusive deals - right to your inbox.