If you are looking for a unique appliance to add to your kitchen, the Monogram Smart Hearth Oven is a one-of-a-kind choice. Its beauty and craftsmanship is unmatched. It will be the centrepiece of your kitchen, impressing guests and making the most delectable dishes, right at home.
Each Monogram Smart Hearth Oven is handcrafted with brick oven performance that has electric heating zones, 7" full-colour touch LCD control screen and a flush installation that fits perfectly with your surrounding cabinetry. The Monogram Smart Hearth Oven is the ideal appliance for pizza connoisseurs looking for that year-round experience that an outdoor pizza oven brings, as well as those looking to add a fun new appliance to the kitchen. The Smart Hearth Oven is not only perfect for pizza cooking, but also many other delicious meals.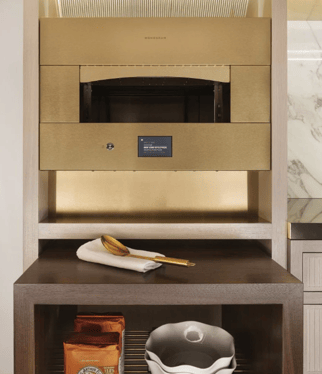 The delicate work of handcrafting the Monogram Smart Hearth Oven can be found in every aspect of the design, from the brushed stainless exterior to the simple touch controls. For those pizza lovers out there, each Monogram Smart Hearth Oven is handcrafted to capture the performance of a wood-fired brick oven that perfectly prepares many different styles of pizza, as well as soft artisanal bread or a whole roasted branzino for those times when you might just want something other than pizza.
Take the guess work out of cooking with the pre-set cooking options which include; Detroit style pizza, Flatbread, Neapolitan, New York style, roasted vegetables, roasted fruit, salmon, and white fish, just to name a few.

The electric heating zones combine the crisping performance of traditional coal and wood burning hearth ovens with the accuracy and simplicity of a luxury appliance. Flush installation offers a look of seamless perfection that is made possible with a 30" width cabinet cut-out. The Integrated oven ventilation system allows for quick and easy installation, with no additional ductwork required.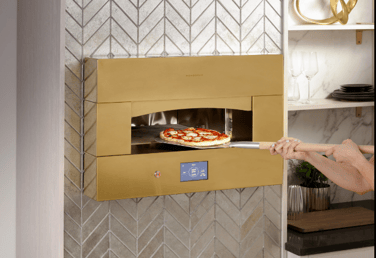 A not to be forgotten feature: the hearth oven is actually smart. It can be connected to Amazon Alexa, Sonos, Google Assistant and more. There are a few accessories that you purchase as well, to make your cooking experience that much more enjoyable. There is a baking stone accessory, pizza turning peel and wooden pizza peel. You also have the option of adding a brass decorative strip to give the Monogram Smart Hearth Oven an eye-catching colour piece.

The Monogram Smart Hearth Oven can be a wonderful addition to the kitchen of anyone looking to make cooking easier and more enjoyable.