For some outdoor enthusiasts, having a barbecue is not enough. Lynx understands that for the true outdoor enthusiasts, grilling is a lifestyle. This is why Lynx, a company built on manufacturing commercial kitchen equipment, builds high quality outdoor appliances that will delight even the most selective grill master.
Built in 1996, a company which spent 30 years manufacturing stainless steel appliances for commercial kitchens decided to make a change. They applied their craftsmanship, quality materials and innovation to the world of outdoor cooking. Not long after this change they were deemed by some, the world's greatest grills. Since then, Lynx has expanded their catalogue, developing stunning, luxurious outdoor kitchens.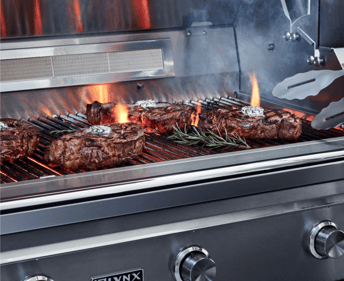 GRILLS
Lynx grills are about the details. Developed with hand crafted designs, reliable, high quality materials and various configurations your bound to find a Lynx Grill to fit your lifestyle.

Grills can be purchased with one of three different grill configuration options:
All ceramic burners with ceramic briquettes
Ceramic burners with Trident combination
All Trident infrared
The grills are also created with a welded design which helps prevent any decay and creates a beautiful seamless look. Hoods feature a feather-light lift and rotating handle with Lynx Hood Assist, making grilling even more enjoyable. All controls are lit with blue LED lighting and halogen lights inside so nighttime barbecuing is as easy as it gets. Lynx grills also feature stainless steel grates and a wind deflector with heat stabilizing design. Lynx grills also have a freestanding cart which is specifically designed for people with disabilities, with practically and accessible features making it easy and safe to use.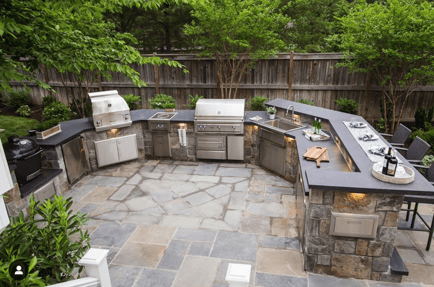 OUTDOOR KITCHEN

If the Lynx grill isn't satisfying enough for you, the Lynx outdoor kitchen options can be added to create a full outdoor kitchen design. Options such as their outdoor built in refrigerator, goose neck faucets and drop in coolers will help you add to the outdoor space of your dreams.
With Lynx you can build the outdoor kitchen of your dreams. Incredible quality and stunning design are the perfect match for the family grill master.
--

Liking what you're reading? Be sure to sign up for our e-newsletter and receive our latest blog posts, recipes, product info and exclusive deals - right in your inbox.