Lynx is a brand of high-quality outdoor grills that was founded in 1996. The company is based in Downey, California, and is known for producing premium quality, luxury products that are designed for professional and amateur chefs alike.
In addition to its focus on quality and innovation, Lynx is committed to sustainability and environmental responsibility. The company uses recycled materials in its packaging and strives to minimize waste in its manufacturing processes.


Key Features
Superior Build Quality: Lynx Grills are made with premium materials, such as stainless steel, that are designed to withstand the elements and provide long-lasting durability.
Innovative Cooking Technology: Lynx Grills are equipped with features like Trident infrared burners, which offer more even heating and reduce flare-ups, and ProSear burners, which provide precise temperature control for searing.
Customizable Options: Lynx Grills offer a range of options for customization, including built-in and freestanding models, various grill sizes, side burners and more..
Luxury Design: Lynx Grills are designed to look as good as they perform, with sleek, modern styling and luxurious details like blue LED lights and polished accents.
High-End Accessories: In addition to its grills, Lynx also offers a range of high-end accessories, such as outdoor refrigerators, wine coolers and more, to help create the ultimate outdoor kitchen experience.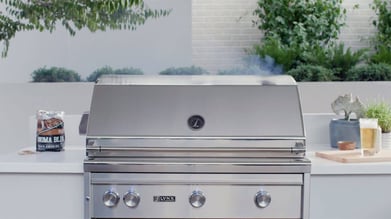 Key Product Offering
Lynx Professional Grills: These grills are the flagship product of Lynx and are available in various sizes and configurations to meet different outdoor cooking needs and/or designs. They are made with high-quality stainless steel, have advanced cooking technology like Trident infrared burners, and come with features like LED lighting and an easy-to-use ignition system. This BBQ is a tank, and yet with their spring loaded system, you can lift that heavy lid with your pinky finger. There is also a patented "wing" across the back of the lid that protects your food from flare ups or temperature fluctuations caused by wind.
Sedona by Lynx Grills: The Sedona line offers a more affordable option without sacrificing quality or performance. These grills are made with durable stainless steel and come with features like ceramic briquette heat distribution, blue LED lights, and an easy-to-use ignition system.
Sonoma by Lynx Outdoor Kitchen Products: The Sonoma line offers a complete outdoor kitchen experience, with built-in grills, side burners, refrigeration units, and other accessories. These products are made with high-quality materials and come with features like ceramic briquettes for even heat distribution, an easy-to-clean grease management system, and blue LED control panel lighting.
Asado by Lynx Outdoor Cooking Products: The Asado line is focused on outdoor cooking beyond traditional grilling. This line features freestanding and built-in Argentine-style grills with adjustable grates, a rotisserie, and a rear infrared burner for searing. Additionally, it offers pizza ovens, smoker boxes, and griddle plates to expand outdoor cooking possibilities.
Lynx Outdoor Kitchen Accessories: Lynx Grills also offers a range of accessories to complement its outdoor cooking products, including refrigeration units, outdoor beverage centers, ice makers, and outdoor sinks. These accessories are designed to be durable and high-performing, with features like soft-closed doors and drawers, LED lighting, and variable speed fans.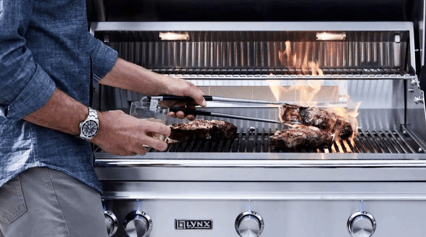 There are several reasons to consider buying a Lynx Grill and one of them is a comprehensive Warranty; Lynx Grills come with a comprehensive warranty that covers the grill body, burners, and other components for up to a lifetime of use, giving you peace of mind and protecting your investment. Lynx Grills offer a premium outdoor cooking experience with a focus on quality, innovation, and luxury design. If you are looking for a high-performance, durable, and stylish outdoor cooking solution, Lynx Grills is worth considering.
Overall, Lynx Grills has built a reputation as a top-tier brand in the outdoor cooking market, and its products are often favoured by professional chefs, grill enthusiasts, and homeowners who want to create a high-end outdoor kitchen experience.