We know designing a kitchen can be difficult. There are so many factors to consider and you also need to figure out the options that would best meet your requirements and expectations. We worked together with Karin Bennett, a fabulous interior designer and owner of Karin Bennett Designs, to come up with some tips that will help you make the best choices in designing a kitchen of your dreams.
KBD focuses on creating a unique personality for each home that reflects upon the owners. Combining modern and contemporary design trends, Karin brings all her projects to life with her bright colour choices and bold patterns. In this blog, Karin also shares insights from her own kitchen re-design, which will provide you a new perspective and be your guide in your kitchen make over journey.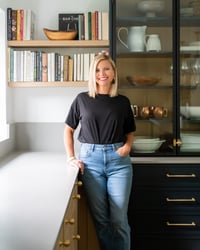 Karin's first tip discusses the importance of appliance selection in kitchen design. Appliances are a major part of the kitchen and it's really important to take your time, research, talk to professionals, and gather as much information as you can to make the right choice. As Karin tells us, "I always encourage homeowners to ask the expert sales associates for help."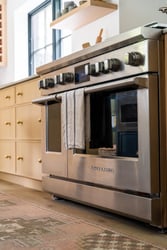 The second tip talks about the role functionality plays in designing a kitchen. How you use your kitchen, the number of chefs in your house, your preferences, all factor in the planning process. "We want to know how you use your kitchen and what features are important to you?" Karin asks and adds,
"If you are a foodie and love to cook, opt to invest in a 36" or 48" range when space allows. If you host large gatherings, we find an additional wall oven and 2nd dishwasher to be very handy for homeowners.
If you are the type of host that whips up fun cocktails you might want to consider a fridge/freezer that has a water and instant ice feature."
The third tip suggests how an integrated look can bring elegance to your kitchen. Integrated or panel-ready appliances fit in with your kitchen units or panels, giving it a sleek finish and space saving solutions, as opposed to free-standing appliances.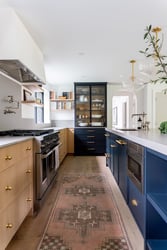 The fourth tip Karin talks about is the importance of ventilation. Karin explains why choosing the right vent hood is an important decision, even though it may not be considered as exciting as selecting other appliances, and how this decision can be affected by your choice of the cooking range. "This often over looked appliance has an important feature to remove odours, heat and smoke in your kitchen. With gas ranges producing more heat than electric ones, they require a more powerful vent hood."
Karin also shares the rationale behind her choice of appliances in her own kitchen re-design, and how her preferences and household cooking habits impacted her decision:
"My 48" F&P gas range is hands down a splurge and it was so worth it. It is the main feature of my kitchen as its positioned between two windows. I adore the double oven and with the griddle, my cooking options are all taken care of. When there are just a couple of us home, we use the smaller oven which saves energy. And the griddle makes the best grilled cheese ever! Second to my range, I am obsessed with our double drawer dishwasher. We can run each drawer separately which is super convenient and saves water!"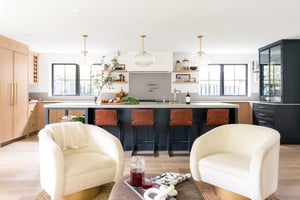 We hope these suggestions from Karin Bennett, will provide you a better sense of direction in designing a beautiful and effective heart and soul of your house.
--

Like what you're reading? Be sure to sign up for our e-newsletter and receive our latest blog posts, recipes, product info and exclusive deals - right to your inbox.