It's not every day that you get to dine with a celebrity, especially one as fun as Eden Grinshpan. If you're not familiar with her name yet, you'll want to be when we're done here. Eden who is the host of Top Chef Canada, was graceful enough to partner with Tasco on a yearlong journey while she renovated her new home in Toronto.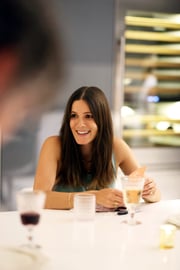 During our partnership Eden teamed up with Tasco to create a contest for fans and customers alike. The contest featured weekly emails and videos that highlighted delicious recipes from Eden's Cookbook: Eating Out Loud. The grand prize winner won a private dinner with Eden and with three guests of their choice at the SubZero Wolf Showroom in Downtown Toronto.
On August 26th, we hosted a fabulous dinner with Elaine, our grand prize winner, and her family alongside Eden. The private dinner consisted of an incredible, mouth-watering menu hand selected by Eden herself. The meal started with an array of incredible middle eastern dips; Babaganoush, Matbucha and Garlicky Tahini, served with freshly baked, warm Barbari.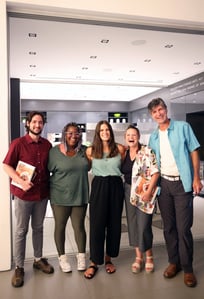 The main attraction was the Chermoula Seabass, baked en papillote and served with a side of brown butter couscous, grilled summer squash and garlicky beans. You can tell Eden truly specializes in Middle Eastern cuisine, her love of spices and flavours comes through full force with every bite. Finished off with yogurt and sour cream cheesecake that will leave you walking on clouds – every diner was thoroughly satisfied packed to the brim with deliciousness. What a pleasure the evening was for all involved – we can't wait to do it again soon!
While the contest is over, you can still subscribe to receive our Dinner with Eden email series by clicking here. Over the course of six weeks you'll receive a weekly exclusive Eden Grinshpan recipe. Cook along and enjoy Eden's delicious Mediterranean creations.

We want to send a special thanks out to everyone who participated including:

Eden Grinshpan, Top Chef Canada Host
Reginald at SubZero Wolf
Lauren Bailey, Culinary Director at Top Chef
Tara Sgori, Videographer
Kasia Ware at Bubbles and Blush
And our guest of honour Elaine and her fantastic family
--

Like what you're reading? Be sure to sign up for our e-newsletter and receive our latest blog posts, recipes, product info and exclusive deals - right to your inbox.