Back by popular demand, is the ever so insightful and talented Karin Bennett! This time Karin shares her shopping experience at Tasco, her favourite brands at Tasco, and how she came to choose the appliances for her own kitchen.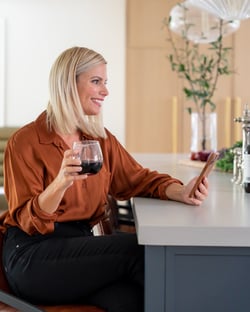 First, Karin talks about the wide collection of luxury brands and high-quality products that Tasco offers to all of our clients. Our range of premium brands and an expert sales team that helps you choose the perfect appliances for your needs, make us a trusted retailer choice for luxury home owners. "There might be too many incredible premium brands to choose from as Tasco curates an amazing array of suppliers'', says Karin.
Secondly, Karin shares the rationale behind her decision of Fisher & Paykel appliances for her kitchen. Karin wanted the appliances that would bring more elegance to her kitchen with their sophisticated design as well as provide a range of innovative features and professional compatibility. "For my home we selected F&P because of their reputation of creating innovative, purposeful and beautiful appliances.", says Karin. She also wanted to make sure that the appliances were a good fit for her family and provide a high level of convenience and performance. "I wanted appliances that would hold up to our busy family of five and look smart and professional.'', she adds.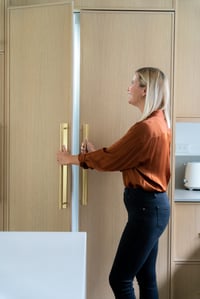 Further, "Our 48" dual fuel range and column fridge / freezer are so beautiful and fit the design perfectly" is what Karin tells us about her beautiful cooking range and integrated refrigerator and how well they blend in with the aesthetics of her kitchen. Karin never had any second thoughts about her choice of appliances and we can all agree that she made the right decisions considering the desirable and high-functioning kitchen that was a result of her decisions. Check out Tasco's collection of Fisher & Paykel products here.
Lastly, Karin talks about her other two favourite brands from Tasco, Wolf and the GE Café series, and why she loves them. Wolf is known to offer a smart range of appliances that provide high accessibility to their users and can go well with all kinds of kitchen interiors. Or as Karin says, "I also love the Wolf brand of appliances for their smart aesthetic and smarter cooking technology." Check out Tasco's collection of Wolf products here.
On the other hand, the GE Café series offers more sophisticated designs and finishes at a more economical price range. "For a more reasonable price point I'm also really enjoying the GE Café series. The matte white and brushed bronze pairing is gorgeous and finger resistant!", Karin adds. Check out Tasco's collection of Café products here.
We hope you liked learning about these premium brands and what makes them such a popular choice among interior designers as well as luxury home owners. Explore more high-end brands with Tasco.
--

Like what you're reading? Be sure to sign up for our e-newsletter and receive our latest blog posts, recipes, product info and exclusive deals - right to your inbox.