The patio season is almost here! If you're looking to revamp your existing outdoor kitchen or planning to create a new one to make the most of the Spring/Summer season, this blog will help you achieve that. When the weather is so warm and pleasant, enjoying a meal outside is what we all crave but not having a well set-up outdoor kitchen might make it a little inconvenient to prepare or eat a meal outside.
Outdoor kitchens have evolved so much from just patio furniture and an outdoor grill. Now you can have a fully functioning outdoor kitchen with a sink, a grill, a prepping station, and even a bar. Let's take a look at some incredible designs and ideas that will make your outdoor kitchen a great hit among your family and friends.
Designs
Here are some of our favourite outdoor kitchen designs.
Mediterranean Outdoor Kitchen
This design makes it look like the outdoor kitchen is built inside an old ruin, especially with the stones and the unfinished top. The cut-out windows and the countertop enhance the uniqueness of this design.
Outdoor Living Room and Dining
Along with a built-in grill and the kitchen set-up, this design includes patio dining furniture as well as a covered outdoor living room to enjoy a quality time outdoors. The fireplace is a nice touch.
Old-School Covered Patio
The old-school stone selection for this covered patio looks so good. The outdoor kitchen, entertainment hub, rattan furniture, and stacked stone fireplace, all covered under exposed beams. This is such an impressive set-up.
Into The Wild
This cute and refreshing set-up is perfect for nature lovers. Stay in touch with your country-side and embrace the natural beauty and essence while you're cooking or eating a meal on your patio.
Ideas
Now let's talk about some ideas that can add to the functionality of your outdoor kitchens.
Outdoor Pizza Oven
Who doesn't love a freshly made, wood/brick oven pizza? A wood-fired pizza oven would be a great addition to your outdoor kitchen and a big hit on your barbecue parties.
Refrigerator Drawers
With a stacked refrigerator, you can save space in your outdoor kitchen while adding a functional and convenient solution to storing and chilling your drinks.
DIY Metal Outdoor Bar
Create a unique, rustic, and relaxing space to enjoy drinks on your patio/outdoor kitchen with a DIY corrugated metal bar. You will especially love it during rain when the water drops hit the metal.
DIY Crate Shelves and Food Prep Station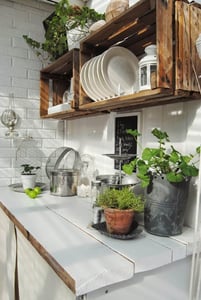 If you're handy and like to take on wood craft projects, you can create this amazing prepping station for your outdoor kitchen. You can create shelves by using small crates to store plates and other utensils.
We hope these designs and creative ideas will help you create a beautiful outdoor kitchen for your home. We are sure if you do decide to adopt one or more of these ideas for your patio, they will enhance your outdoor dining experience.
--

Like what you're reading? Be sure to sign up for our e-newsletter and receive our latest blog posts, recipes, product info and exclusive deals - right to your inbox.