They say the Kitchen is the heart of the home, but it's especially true for a chef whose work and play revolve around this special part of the house. We were lucky enough to be a part of Top Chef Canada host, Eden Grinshpan's kitchen renovation. Being a professional chef and a mother of two, Eden spends a lot of time in her kitchen and that is why she wanted to create a space that would inspire unique culinary creations and memorable moments to share with her family.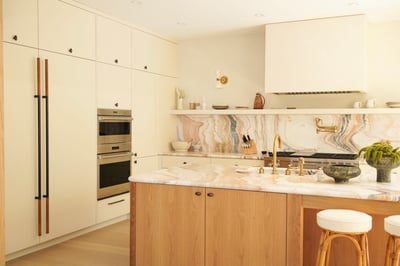 One of the most important things to Eden's kitchen renovation was getting that professional suite of appliances that would allow her to unleash her creativity without feeling restricted by her tools. Our sales team at Tasco understood this and helped Eden choose the appliances that would best meet her needs and standards, and would complement the vision that she had in mind for her dream kitchen. Before starting the renovation and moving into her new house in Toronto, Eden was living in an apartment in Brooklyn where she had a Wolf cooking range which she had fallen in love with. So, when it came to choosing a cooking range, Eden knew that she only wanted a professional Wolf range which helped us narrow down the options for her. She describes it like this, "Once you go Wolf it's really hard to do anything else. We knew we needed to get a couple ovens in the kitchen so added a wall oven as well. Having both available to bake, roast, proof and braise it's been a seamless process in the kitchen".
Next came the refrigerator and the wine cooler. Eden wanted an integrated look that would blend in with the warm, earthy tone that she had going in her kitchen. Eden had worked with her designer, Montana Burnett and cabinet-maker Ross Etherington, to create the unique design and colour scheme for her kitchen cabinets and island. She wanted all the elements of the kitchen complementing the theme and that's why she decided to go for an integrated look for her fridge and wine cooler. As these appliances command major real estate in any kitchen, Eden figured that her kitchen interiors would be highlighted in a better way if these appliances were disguised with the same tone. So, after the installation of the refrigerator and the wine cooler, and the completion of the kitchen cabinets and countertops, our Tasco pros installed the integrated panels for the appliances, completing the seamless aesthetic of Eden's kitchen.
Proper kitchen ventilation plays a very important role to the safety of your home and your family, especially if getting creative with ingredients and cooking styles is a normal day in your kitchen. Eden was aware of this fact and so were we which is why we spent a lot of time in finding and installing the perfect hood. "I actually love the look of the hood in our kitchen. We micro cemented it to blend in with the wall and shelf so that it blends in perfectly but also adds to the seriousness of this kitchen. When you cook a lot, you just need a vent and a strong one" says Eden.
Eden was very passionate about the aesthetics of her kitchen and lucky for her, Montana and Ross shared her enthusiasm and were able to sync their ideas around the theme that Eden was looking for. They decided to go for brass fixtures to compliment the colour scheme and the marble, which worked out so perfectly to create this absolutely desirable masterpiece of a kitchen.
Eden's kitchen was a labour of love by her and her team, and all of us at Tasco were overjoyed to be a part of it. When you look at the final results, we can't help but feel proud that she chose Tasco to take on this journey with her. From the brass fixtures to the rattan furniture, the warm marble countertop to the seamless blending of appliances, everything here is working in such perfect harmony. Cooking or not, this is a space where anyone would want to spend time and we're sure this kitchen will be the backdrop of many happy memories for Eden and her family.
Get a tour of Eden's Kitchen here.
Read more about Eden's kitchen journey in her interview with Domino magazine. Maybe you'll be inspired to create your own dream kitchen. Find it here.
--

Like what you're reading? Be sure to sign up for our e-newsletter and receive our latest blog posts, recipes, product info and exclusive deals - right to your inbox.