We're back with the amazing Karin Bennett from Karin Bennett Designs and this time we have compiled a list of some of the best interior design trends for 2022 to help you design your dream home. It's important to stay up-to-date with the current trends so that you don't regret not doing enough research before you invest a large amount of time and resources into a renovation project. You also don't want to miss out on the value that these new design ideas add to your home which is why Karin suggests her favourite trends to her clients, depending on their needs and budget to give their homes a unique and trendy vibe.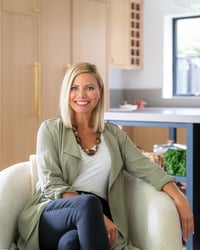 Let's take a look at some of these trends and her tips on how you can incorporate them to your own project!
Natural Element
As we have been spending more time indoors, there has been an incline towards a more organic/nature-based look for the interiors. For example, we saw different kinds and shades of light woods make a comeback and not just for the flooring but also as ceiling and wall treatments. You can apply a single tone or do a mix and match for your home. According to Karin, "Don't worry about matching wood species or colours. A good rule of thumb is three wood tones are allowed in each space. A nature inspired environment is easy to achieve by simply bringing real branches into your home. This large statement is seen all through design magazines lately." Real plants have also become a popular addition to homes lately. Along with providing a natural and fresh tone to the aesthetics, they also offer several health benefits.
Curves Rule
Curves are the new cool. We are seeing rounded edges everywhere nowadays, be it furniture items, like sofa, chair backs, and tables or the eye-catching oval kitchen islands. It looks like the round-edged trend is here to stay. Karin mentions one of her favourite elements from this trend, arched entrances. She says, "Arched entryways are still going strong. We just incorporated one in my own renovation and I love it!"
Texture is Critical
Karin believes that texture is important for a room as it brings out its visual interest and gives it a 'curated over time feel' without becoming overwhelming. She tells us, "While in Canada we still don't use bold colours a lot but boy do we love our texture! At KBD we mix fabric textures with all our pillows and throws often - wool, cotton, linen and boucle all work well when paired together."
Go Green
Karin advises everyone to choose eco-friendly alternatives wherever and whenever possible. They're not only beneficial to the environment, they also help you save money in the long run. Energy efficient appliances save energy and water, which helps reduce utility bills, window treatments provide insulation that decreases your heating and air-conditioning needs, and furniture made from recycled materials is good for the environment. "We encourage clients to purchase locally to reduce the carbon footprint. These small changes can make an everlasting impression on the environment. Consider using organic fabrics for furniture and draperies. Bottom line - when you can opt for sustainable materials, do so", she adds.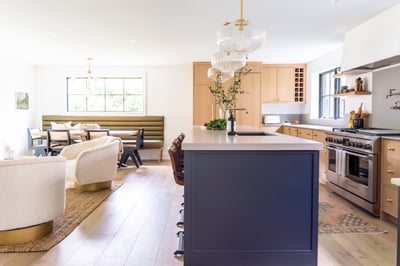 2022 has so much in store for us, including new trends in home interior and kitchen design and we couldn't be more excited to see them. However, it can be a little difficult to keep track of all these positive changes happening around us but thanks to Karin we were able to enlist some of the most promising ones!
Click here to learn about Karin Bennett's kitchen renovation experience and tips.
--

Like what you're reading? Be sure to sign up for our e-newsletter and receive our latest blog posts, recipes, product info and exclusive deals - right to your inbox.